Fallout Interactive Experience
Play Sound
| | |
| --- | --- |
| | For the effects of sleeping in a bed, see resting. |
Image needed (variants)

This article is missing an image. You can help

Nukapedia

by

uploading

it.
Cleanup (Issue: needs reorg)

To meet

Nukapedia

'

s quality standards, this article or section may require cleanup. Please help by

improving

the article.
Beds are constructible workshop objects in Fallout 76.
Characteristics
They are objects allowing for the player character to sleep, resulting in benefits such as restoration of health. One can become diseased if sleeping on mattresses on the ground. Several variants can be built in one's C.A.M.P. after obtaining the associated plan.
There is also a mattress and various sleeping bags that can be built.
Crafting
Bed (Fancy)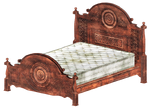 | Name | Editor ID | Form ID |
| --- | --- | --- |
| Bed (Fancy) | NpcFancyBed_Full | 00015B28 |
Materials:
 
Requirements:
 
Produces:

Build at:

Learn Method:

Bed (1)
Bed (Metal)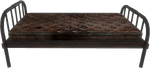 | Name | Editor ID | Form ID |
| --- | --- | --- |
| Bed (Metal) | workshop_co_CondProxy_Bed_BedMetal | 0018C56F |
Materials:
 
Requirements:
 
Produces:

Build at:

Learn Method:

Bed (1)
Bed (Military cot)
| Name | Editor ID | Form ID |
| --- | --- | --- |
| Bed (Military cot) | workshop_co_CondProxy_Bed_BedMilitaryCot | 005059E6 |
Materials:
 
Requirements:
 
Produces:

Build at:

Learn Method:

Bed (1)
Bed (Simple modern)
Bed (Vault-Tec variant 1)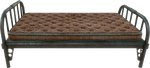 Materials:
 
Requirements:
 
Produces:

Build at:

Learn Method:

Bed (1)
Bed (Vault-Tec variant 2)
Materials:
 
Requirements:
 
Produces:

Build at:

Learn Method:

Bed (1)
Bunk bed
Materials:
 
Requirements:
 
Produces:

Build at:

Learn Method:

Bunk bed (1)
Hospital bed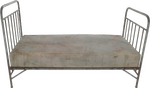 Materials:
 
Requirements:
 
Produces:

Build at:

Learn Method:

Hospital bed (1)
Bed of nails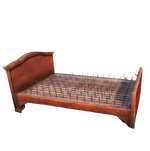 Materials:
 
Requirements:
 
Produces:

Build at:

Learn Method:

Bed of nails (1)
Cryogenic bed
Atomic Shop beds