"
We should have given you a better welcome on your first visit to Zion, but from what I hear, the White Legs beat us to it.
"
— Joshua Graham
Arrival at Zion is a main quest in the Fallout: New Vegas add-on Honest Hearts.
Quick walkthrough
Detailed walkthrough
Shortly after the completion of Happy Trails Expedition and the Courier's initial arrival in Zion, a group of White Legs will ambush the caravan, killing everyone but the Courier. There is no way to save the caravan members, as their deaths are scripted, and they will die even if all but one ambusher is killed, this last ambusher is immortal until the last member of the caravan dies.
After crossing the bridge towards the rest of Zion, the Courier will be attacked by a White Legs tribal from a distance, standing upon a large rock. This ambush will be thwarted by Follows-Chalk, a scout from the Dead Horses tribe who can join the Courier as a companion. It is possible to let him join immediately, or he can be sent away. If he joins the Courier, he will provide a scripted commentary on the way to the Dead Horses camp.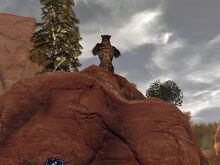 If Follows-Chalk joins the Courier, he will point out a hollow log that contains random minor loot. Not far down the path towards Dead Horses camp, a non-hostile giant yao guai will make a brief appearance in a scripted event. Further along the path, Follows-Chalk will note a cliff. Climbing to the top is the first opportunity to make use of the Well-Stacked Cairns perk. When getting close to the Dead Horses camp, Follows-Chalk will warn about traps set in the river to keep marauding White Legs at bay. Furthermore, if the Courier wanders too far off course, he will comment and remind the player that they are supposed to be heading towards his camp.
On arrival at the Dead Horses camp, the Courier is told to enter Angel cave and follow it until they find their leader, Joshua Graham. Engaging in conversation with Graham will complete the quest.
One can also opt to simply kill Follows-Chalk, which fails this quest and triggers Chaos in Zion. Triggering Chaos in Zion disallows participation in all other quests in the Honest Hearts add-on, and subsequently all of its quest-related trophies.
Quest stages
Notes
Bugs
[verified]
If you interrupt the dialogue during the opening of this quest by going to the load menu, the dialogue can lock up before Stella can say her final lines to Jed—leaving you unable to move with the other caravan members just standing around, saying nothing.
[verified]
One of the White Legs might become invincible if you leave the ambush without defeating them, thus making it impossible to complete the optional part of this quest.
[verified]
During the ambush, the White Legs may become invisible until the combat is over.
[verified]
Some White Legs may be non-hostile and too far away from the cliff to kill them, making the optional part of the quest impossible to complete.
[verified]
Jed Mastersons' body will not disappear after his death during the White Legs assault.
[verified]
    Follows-Chalk may briefly appear as an enemy when attacking the White Legs. This can lead to the player accidentally killing him thus breaking the main quest.
Gallery
Act 1
Ain't That a Kick in the Head

 ·

Back in the Saddle

 ·

By a Campfire on the Trail

 ·

They Went That-a-Way

 ·

Ring-a-Ding-Ding!
Act 2
Wild Card (Wild Card: Ace in the Hole, Change in Management, You and What Army?, Side Bets, Finishing Touches)

 ·

The House Always Wins (I, II, III, IV, V, VI, VII, VIII)

 ·

Render Unto Caesar

 ·

Et Tumor, Brute?

 ·

Things That Go Boom

 ·

Kings' Gambit

 ·

For the Republic, Part 2

 ·

You'll Know It When It Happens/Arizona Killer
Act 3
No Gods, No Masters

 ·

All or Nothing

 ·

Veni, Vidi, Vici

 ·

Eureka!
Other
Come Fly With Me

 ·

Crazy, Crazy, Crazy

 ·

Ghost Town Gunfight

 ·

Guess Who I Saw Today

 ·

Left My Heart

 ·

My Kind of Town

 ·

The Legend of the Star and A Valuable Lesson

 ·

Unfriendly Persuasion

 ·

Wheel of Fortune
Companion quests
ED-E My Love

 ·

For Auld Lang Syne

 ·

Heartache by the Number

 ·

I Could Make You Care

 ·

I Forgot to Remember to Forget

 ·

Nothin' But a Hound Dog

 ·

One for My Baby
Unmarked quests
A Bit of Slap and Tickle

 ·

A Final Plan for Esteban

 ·

Access Powers

 ·

All Fired Up!

 ·

An Ear to the Ground

 ·

Andy and Charlie

 ·

Arachnophobia

 ·

Arizona Scavenger

 ·

Barton the Fink

 ·

Bear Necessities

 ·

Big Winner (Atomic Wrangler, The Gomorrah, The Tops, Ultra-Luxe, Vikki & Vance)

 ·

Bounty Killer (I, II)

 ·

Brotherhood Bond (I, II)

 ·

Caching in at the Cove

 ·

Cajoling a Cudgel

 ·

Claws Mended

 ·

Claws Out

 ·

Dealing with Contreras

 ·

Defacing the Humble Stone

 ·

Democracy Inaction

 ·

Don't Poke at the Bear!

 ·

Eddie's Emissary

 ·

Exhumin' Nature

 ·

Fight Night

 ·

Flogging a Dead Corpse

 ·

Friend of the Followers

 ·

Gland for Some Home Cooking

 ·

Harder, Better, Faster, Stronger

 ·

Hat's Entertainment

 ·

Help for Halford

 ·

Hidden Valley computer virus

 ·

Highway to the Danger Zone (I, II)

 ·

Honorary Rocketeer

 ·

I Love Bananas

 ·

Iron and Stealing

 ·

Keith's Caravan Charade

 ·

Laurifer Gladiator

 ·

Lenk's Bad Debts

 ·

Lily and Leo

 ·

Long-Term Care

 ·

Malleable Mini Boomer Minds

 ·

Maud's Muggers

 ·

Meeting an Equal

 ·

Missing a Few Missiles

 ·

Most Wanted

 ·

Not Worth a Hill of Corn and Beans

 ·

Old School Ghoul

 ·

A Pair of Dead Desperados (I, II)

 ·

Papers, Please

 ·

Pistol Packing

 ·

Playing on the Old Joana

 ·

Poor Meat Never Makes Good Soup

 ·

Powder to the People

 ·

Power to the People

 ·

Razzle Dazzle!

 ·

Reach for the Sky, Mister!

 ·

Rest and Resupply

 ·

Ringo's Caravan Rules

 ·

Rotface's Loose Lips

 ·

Saving (or Savaging) Sergeant Teddy

 ·

The Screams of Brahmin

 ·

Silus Treatment

 ·

Short-Term Treatment

 ·

Smooth-Talking Criminal

 ·

The Star Showdown

 ·

Strategic Nuclear Moose

 ·

Straus Calls

 ·

Strip Search

 ·

Suits You, Sarah

 ·

Tags of Our Fallen

 ·

A Team of Moronic Mercenaries

 ·

Thought for the Day

 ·

Tourist Traipse

 ·

Trudy's Radio Repair

 ·

A Trusted Aide

 ·

Useless Baubles or Fancy Trinkets?

 ·

We Must Stop Beating Like This

 ·

We Must Stop Meeting Like This

 ·

Wind-Brahmin Wrangler

 ·

You Gotta Break Out a Few Eggs

 ·

You Make Me Feel Like a Woman
Community content is available under
CC-BY-SA
unless otherwise noted.