"
Anglers wait in ambush for prey to come to them. Their glowing "lure" mimics the look of a flower common to the island.
"
— Loading screen hint
Anglers are creatures that appear in the Fallout 4 add-on Far Harbor.
Characteristics
Biology
Anglers are aggressive creatures native to the Island. They are usually found living in swamps or rivers where lure weed is present, sometimes hiding under the surface to ambush prey. The fleshy bioluminescent growth atop its head (similar to an angler fishes illicium) acts as a camouflage for the predator, effectively disguising it as the surrounding lure weed to fool its prey.
The canonical origins of the angler are unknown. They share elements associated with very different real world animals (namely fish and amphibians) that could be their theoretical ancestors. Whether the name Angler is intended to imply they are directly related to anglerfish or whether it's in reference to their glowing lure as a convergent feature is impossible to say without statement from Bethesda.
Gameplay attributes
The angler is an aggressive creature with the ability to absorb the fog and spit it out like a fireball, inflicting incendiary damage to any target it is able to hit. In combat, they often rely on these long ranged attacks but have been observed to charge at their prey and use their claws, though often they will halt mid charge to use their preferred method.
With the means to use V.A.T.S., travelers can spot these creatures hiding among lure weed and avoid a surprise attack. Without this ability, the angler's illicium can be distinguished from the plant by the lack of leaves of a single appendage resting on the water's surface. Sometimes, the angler's head can be visible under the surface and mistaken for these leaves from afar but will remain submerged until the prey is close enough. Getting too close will alert the angler, causing it to spring from the water and engage.
Anglers' energy resistance is much higher than their damage resistance, making ballistic or melee weapons the preferable choice for engaging them in combat.
Variants
Angler
This is the common variant of the angler and is therefore the weakest. Mostly they are found hiding among lure weed, sometimes with other anglers.
Name (Form ID)
Statistics
Behavior
Abilities
Items
Angler


xx

009583
Lantern angler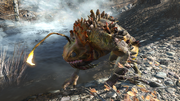 An even stronger variant, with a more pronounced, bright lure.
Name (Form ID)
Statistics
Behavior
Abilities
Items
Lantern angler


xx

009588
Glowing angler
The glowing angler is all around stronger than the common angler and has enough radiation in it that it emits a glow and deals radiation damage to those around it.
Name (Form ID)
Statistics
Behavior
Abilities
Items
Glowing angler


xx

009584
Albino angler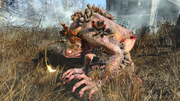 The second strongest angler, a genetic deficiency has caused this angler to be white in color. This angler is found by higher level player characters.
Name (Form ID)
Statistics
Behavior
Abilities
Items
Albino angler


xx

009585

37

8

1200

100

175

Immune

Immune

?
Venomous angler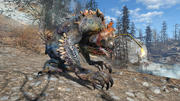 Venomous anglers are the most powerful variant of their species. They level with the player character and are therefore immune to the Wasteland Whisperer perk.
Name (Form ID)
Statistics
Behavior
Abilities
Items
Venomous angler


xx

009586

51+

9

1750+

125

230

Immune

Immune

?
Appearances
Anglers appear only in the Fallout 4 add-on Far Harbor.
Gallery
West Coast
(Fallout, Fallout 2, Fallout: New Vegas)
Alien

 ·

Bighorner (Bighorner bull, Bighorner calf)

 ·

Bird

 ·

Bloatfly (Legendary bloatfly)

 ·

Brahmin

 ·

Cazador (Young cazador, Legendary cazador)

 ·

Centaur (Evolved centaur)

 ·

Coyote (Coyote alpha male, Coyote den mother, Coyote pup)

 ·

Deathclaw (Baby deathclaw, Young deathclaw, Blind deathclaw, Deathclaw alpha, Mother deathclaw, Intelligent deathclaw, Legendary deathclaw)

 ·

Dog (Cyberdog, Legion Mongrel, Vicious dog)

 ·

Fire ant (Fire ant worker, Fire ant soldier, Ant queen)

 ·

Floater

 ·

Fly

 ·

Gecko (Hunter gecko, Fire gecko, Golden gecko, Little gecko)

 ·

Ghost people (Ghost harvester, Ghost seeker, Ghost trapper)

 ·

Ghoul (Feral ghoul roamer, Feral ghoul reaver, Glowing one, Feral trooper ghoul)

 ·

Giant ant (Giant worker ant, Giant soldier ant, Giant ant queen)

 ·

Giant catfish

 ·

Giant rat (Mole rat, Pig rat)

 ·

Human (Dwarf

 ·

Lobotomite)

 ·

Lakelurk

 ·

Mantis (Giant mantis, Giant mantis nymph, Giant mantis female)

 ·

Marked man

 ·

Night stalker (Young night stalker, Den mother, Legendary night stalker)

 ·

Radroach

 ·

Radscorpion (Bark scorpion, Bark scorpion hunter, Small radscorpion, Giant radscorpion, Radscorpion queen)

 ·

Raven

 ·

Slags

 ·

Spore carrier (Spore carrier savage, Spore carrier brute, Spore carrier runt)

 ·

Spore plant

 ·

Super mutant (Mariposa) (Super mutant master, Nightkin)

 ·

Wanamingo

 ·

Tunneler (Tunneler queen)

 ·

Wolf

 ·

Yao guai
East Coast
(Fallout 3, Fallout 4, Fallout 76, Fallout Tactics 2)
Abomination

 ·

Alien

 ·

Alien squid

 ·

Alien worm

 ·

Angler

 ·

Beaver

 ·

Bee swarm

 ·

Bird

 ·

Bloatfly

 ·

Bloodbug

 ·

Bloodworm

 ·

Brahmin

 ·

Brahmiluff

 ·

House cat

 ·

Cave cricket

 ·

Centaur

 ·

Chicken

 ·

Crow

 ·

Deathclaw

 ·

Dog (Mongrel)

 ·

Fire ant

 ·

Firefly

 ·

Flatwoods monster

 ·

Fly

 ·

Fog crawler

 ·

Fox

 ·

Frog

 ·

Gatorclaw

 ·

Gazelle

 ·

Ghoul (Feral ghoul, Feral ghoul reaver, Feral ghoul roamer, Glowing one, Swamp ghoul)

 ·

Appalachian Floater

 ·

Ghoulrilla

 ·

Giant ant (Giant ant queen)

 ·

Giant catfish

 ·

Gorilla

 ·

Grafton monster

 ·

Gulper

 ·

Hermit crab

 ·

Honey beast

 ·

Human

 ·

Lamprey floater

 ·

Manowar tendril floater

 ·

Mega sloth

 ·

Mirelurk (Mirelurk hunter, Mirelurk king, Nukalurk, Swamplurk, Swamplurk queen)

 ·

Mole rat

 ·

Mole miner

 ·

Mothman

 ·

Mutant crocodile

 ·

Mutant hound

 ·

Mutant wanamingo

 ·

Needle tooth floater

 ·

Opossum

 ·

Rad chicken

 ·

Radgull

 ·

Rad rabbit

 ·

Rad-rat

 ·

Radtoad

 ·

Radroach

 ·

Radscorpion (Albino radscorpion, Giant radscorpion)

 ·

Radstag

 ·

Scorched

 ·

Scorchbeast

 ·

Sea creature

 ·

Snallygaster

 ·

Squirrel

 ·

Stingwing

 ·

Tick

 ·

Super mutant (Vault 87) (Super mutant behemoth, Super mutant brute, Super mutant master, Super mutant overlord)

 ·

Super mutant (Institute)

 ·

Super mutant (Huntersville)

 ·

Swampfolk

 ·

Trog

 ·

Wendigo

 ·

Wolf

 ·

Yao guai
Midwest
(Fallout Tactics, Van Buren)
Badger

 ·

Boom bug

 ·

House cat

 ·

Brahmin

 ·

Dog

 ·

Electro-beetle

 ·

Endless walker

 ·

Gehenna

 ·

Ghoul (Born ghoul, Feral ghoul, Glowing one)

 ·

Giant albino ant (Giant albino ant queen)

 ·

Giant leech

 ·

Giant rat

 ·

Giant wasp

 ·

Hairy deathclaw (Baby hairy deathclaw)

 ·

Human

 ·

Komodo dragon

 ·

Molech

 ·

Mountain lion

 ·

Mutant cannibal

 ·

Raccoon

 ·

Radroach

 ·

Radscorpion

 ·

Radtoad

 ·

Trog

 ·

Super mutant (Mariposa)

 ·

Wolf
Texas
(Fallout: BoS, Fallout: BoS 2)
Brahmin

 ·

Coyote

 ·

Dog

 ·

Experimental deathclaw (Baby experimental deathclaw)

 ·

Ghoul (Glowing one)

 ·

Giant rat (Mole rat)

 ·

Human

 ·

Radbug

 ·

Radscorpion (glowing radscorpion, spitting radscorpion, large giant radscorpion)

 ·

Small rat

 ·

Giant rat

 ·

Super mutant (Mariposa)
Project V13
Ghoul

 ·

Human

 ·

Mutant mantis shrimp

 ·

Super mutant (Project V13)
Fallout Shelter
Deathclaw

 ·

Feral ghoul

 ·

Ghoul

 ·

Human

 ·

Mole rat

 ·

Cat

 ·

Dog

 ·

Parrot

 ·

Radroach

 ·

Radscorpion

 ·

Super mutant