| | |
| --- | --- |
| | For the alien species, see Alien. |
The alien is an extraterrestrial being found in the Commonwealth in 2287. It can can be located in a cave near the UFO crash site.
Background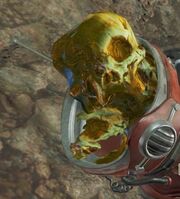 The alien appears as a humanoid creature roughly the height of an average human. It possesses four limbs: two arms which end in three-fingered hands with opposable (or at least prehensile) thumbs and two legs whose digits cannot yet be discerned. The alien has a large head that features two pitch-black eyes, pointed ears, a flat nose with two nostrils and a mouth with nine-pointed teeth. The alien's skin is a pale yellowish-green hue with dark splotches scattered about.
When killed with a headshot, the creature's green-colored brain matter can be seen going airborne, leaving roughly half of its cranium exposed. An unidentified blue-colored anatomical component is seen when its head or extremities are damaged. The alien is apparently capable of breathing within the earth's atmosphere. When fresh, the alien's blood appears to be a light green, becoming darker as it dries, similar to human blood.
Gameplay attributes
The alien lies injured in the cave, and will not engage the Sole Survivor or any companions unless approached. It is extremely weak and will die easily.
Variants
Alien
An alien that has crash-landed into the Commonwealth. It can be found in a small cave, and it will attack on sight. Upon death, it will drop its alien blaster pistol and alien blaster rounds.
Name (Form ID)
Statistics
Behavior
Abilities
Items
Alien


00184C51

Alien
FE

XXX

000

Alien
FE

XXX

000
Locations
Notes
Appearances
Aliens appear in Fallout 4.
Behind the scenes
Gallery
See also
References
↑ The Hachiko Interview With Joel Burgess & Jeff Gardiner: Players who found the UFO also found the remains of the pilot, who looks like the old school Roswell grays for the most part. Are these the same models being used for Mothership Zeta? Will the grays be the only enemies or are there a variety of new aliens to fight side-by-side with the gray pilot witnessed in the retail game?
Jeff Gardiner: "Yes, we're modeling the same basic enemy after the "Roswell grays." There are other enemies that will be uncovered as well, including alien robotics."
West Coast
(Fallout, Fallout 2, Fallout: New Vegas)
Alien

 ·

Bighorner (Bighorner bull, Bighorner calf)

 ·

Bird

 ·

Bloatfly (Legendary bloatfly)

 ·

Brahmin

 ·

Cazador (Young cazador, Legendary cazador)

 ·

Centaur (Evolved centaur)

 ·

Coyote (Coyote alpha male, Coyote den mother, Coyote pup)

 ·

Deathclaw (Baby deathclaw, Young deathclaw, Blind deathclaw, Deathclaw alpha, Mother deathclaw, Intelligent deathclaw, Legendary deathclaw)

 ·

Dog (Cyberdog, Legion Mongrel, Vicious dog)

 ·

Fire ant (Fire ant worker, Fire ant soldier, Ant queen)

 ·

Floater

 ·

Fly

 ·

Gecko (Hunter gecko, Fire gecko, Golden gecko, Little gecko)

 ·

Ghost people (Ghost harvester, Ghost seeker, Ghost trapper)

 ·

Ghoul (Feral ghoul roamer, Feral ghoul reaver, Glowing one, Feral trooper ghoul)

 ·

Giant ant (Giant worker ant, Giant soldier ant, Giant ant queen)

 ·

Giant catfish

 ·

Giant rat (Mole rat, Pig rat)

 ·

Human (Dwarf

 ·

Lobotomite)

 ·

Lakelurk

 ·

Mantis (Giant mantis, Giant mantis nymph, Giant mantis female)

 ·

Marked man

 ·

Night stalker (Young night stalker, Den mother, Legendary night stalker)

 ·

Radroach

 ·

Radscorpion (Bark scorpion, Bark scorpion hunter, Small radscorpion, Giant radscorpion, Radscorpion queen)

 ·

Raven

 ·

Slags

 ·

Spore carrier (Spore carrier savage, Spore carrier brute, Spore carrier runt)

 ·

Spore plant

 ·

Super mutant (Mariposa) (Super mutant master, Nightkin)

 ·

Wanamingo

 ·

Tunneler (Tunneler queen)

 ·

Wolf

 ·

Yao guai
East Coast
(Fallout 3, Fallout 4, Fallout 76, Fallout Tactics 2)
Abomination

 ·

Alien

 ·

Alien squid

 ·

Alien worm

 ·

Angler

 ·

Beaver

 ·

Bee swarm

 ·

Bird

 ·

Bloatfly

 ·

Bloodbug

 ·

Bloodworm

 ·

Brahmin

 ·

Brahmiluff

 ·

House cat

 ·

Cave cricket

 ·

Centaur

 ·

Chicken

 ·

Crow

 ·

Deathclaw

 ·

Dog (Mongrel)

 ·

Fire ant

 ·

Firefly

 ·

Flatwoods monster

 ·

Fly

 ·

Fog crawler

 ·

Fox

 ·

Frog

 ·

Gatorclaw

 ·

Gazelle

 ·

Ghoul (Feral ghoul, Feral ghoul reaver, Feral ghoul roamer, Glowing one, Swamp ghoul)

 ·

Appalachian Floater

 ·

Ghoulrilla

 ·

Giant ant (Giant ant queen)

 ·

Giant catfish

 ·

Gorilla

 ·

Grafton monster

 ·

Gulper

 ·

Hermit crab

 ·

Honey beast

 ·

Human

 ·

Lamprey floater

 ·

Manowar tendril floater

 ·

Mega sloth

 ·

Mirelurk (Mirelurk hunter, Mirelurk king, Nukalurk, Swamplurk, Swamplurk queen)

 ·

Mole rat

 ·

Mole miner

 ·

Mothman

 ·

Mutant crocodile

 ·

Mutant hound

 ·

Mutant wanamingo

 ·

Needle tooth floater

 ·

Opossum

 ·

Rad chicken

 ·

Radgull

 ·

Rad rabbit

 ·

Rad-rat

 ·

Radtoad

 ·

Radroach

 ·

Radscorpion (Albino radscorpion, Giant radscorpion)

 ·

Radstag

 ·

Scorched

 ·

Scorchbeast

 ·

Sea creature

 ·

Snallygaster

 ·

Squirrel

 ·

Stingwing

 ·

Tick

 ·

Super mutant (Vault 87) (Super mutant behemoth, Super mutant brute, Super mutant master, Super mutant overlord)

 ·

Super mutant (Institute)

 ·

Super mutant (Huntersville)

 ·

Swampfolk

 ·

Trog

 ·

Wendigo

 ·

Wolf

 ·

Yao guai
Midwest
(Fallout Tactics, Van Buren)
Badger

 ·

Boom bug

 ·

House cat

 ·

Brahmin

 ·

Dog

 ·

Electro-beetle

 ·

Endless walker

 ·

Gehenna

 ·

Ghoul (Born ghoul, Feral ghoul, Glowing one)

 ·

Giant albino ant (Giant albino ant queen)

 ·

Giant leech

 ·

Giant rat

 ·

Giant wasp

 ·

Hairy deathclaw (Baby hairy deathclaw)

 ·

Human

 ·

Komodo dragon

 ·

Molech

 ·

Mountain lion

 ·

Mutant cannibal

 ·

Raccoon

 ·

Radroach

 ·

Radscorpion

 ·

Radtoad

 ·

Trog

 ·

Super mutant (Mariposa)

 ·

Wolf
Texas
(Fallout: BoS, Fallout: BoS 2)
Brahmin

 ·

Coyote

 ·

Dog

 ·

Experimental deathclaw (Baby experimental deathclaw)

 ·

Ghoul (Glowing one)

 ·

Giant rat (Mole rat)

 ·

Human

 ·

Radbug

 ·

Radscorpion (glowing radscorpion, spitting radscorpion, large giant radscorpion)

 ·

Small rat

 ·

Giant rat

 ·

Super mutant (Mariposa)
Project V13
Ghoul

 ·

Human

 ·

Mutant mantis shrimp

 ·

Super mutant (Project V13)
Fallout Shelter
Deathclaw

 ·

Feral ghoul

 ·

Ghoul

 ·

Human

 ·

Mole rat

 ·

Cat

 ·

Dog

 ·

Parrot

 ·

Radroach

 ·

Radscorpion

 ·

Super mutant