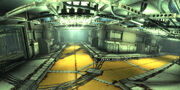 The
Outcast outpost
is an
Outcast
camp which has been set up in the remains of the VSS Facility, a pre-War compound of
Virtual Strategic Solutions, Inc.
Part of the
Operation: Anchorage
add-on
, it can be reached by elevator from
Bailey's Crossroads
. It houses the VSS Armory, an initially locked weapon cache filled with pre-War equipment, accessible only by completing the
Anchorage Reclamation simulation
in the building. It seems to have been left untouched since the bombs fell, or even about a year earlier,
2076
, according to computer and development records recovered at the site.