Fallout Interactive Experience
Play Sound
The 12.7mm pistol is a weapon in Fallout: New Vegas.
Characteristics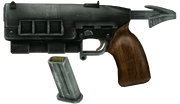 This pistol has the third highest base damage-per-second of any non-energy pistol in Fallout: New Vegas, bested only by A Light Shining in Darkness (144.4) and Li'l Devil (GRA) (146.3). It takes a Guns skill of 75 and a Strength of 7 in order to take full advantage of the weapon. Its only drawbacks are poor accuracy (it has the highest weapon spread of any pistol in the game, comparable to even some automatic weapons) and its lack of being a holdout weapon.
Durability
The 12.7mm pistol has the same durability as the less powerful 10mm pistol; it can fire a total of about 395 standard rounds, the equivalent of 57 reloads, from full condition before breaking.
Ammunition type
Durability
Shots
Reloads
Standard, HP & JHP
395
57
Modification
Variants
Comparison
Legend
- Weapon name (melee or unarmed)
- Attacks in V.A.T.S.
- Weapon name (gun, energy or explosive)
- Action point cost
- Damage per attack (damage per projectile)
- Damage per action point
- Damage per second
- Weapon spread
- Area of effect damage
- Magazine capacity (shots per reload)
- Effect damage & duration
- Durability (number of attacks before breaking)
- Bonus effects
- Weight
- Attacks per second
- Value in caps
- Critical chance % multiplier
- Value to weight ratio
- Critical damage
- Skill required
- Critical effect damage & duration
- Strength required
- With all mods attached
| | | | | | | | | | | | | | | | |
| --- | --- | --- | --- | --- | --- | --- | --- | --- | --- | --- | --- | --- | --- | --- | --- |
| 12.7mm pistol  | 40 | 110 | 2.75 | x1 | 40 | 17 | 2.4 | 1.1 | 7 | 395 | 3.5 | 4000 | 1142.9 | 75 | 7 |
| Li'l Devil  | 45 | 146.3 | 3.25 | x2 | 45 | 15 | 3 | 0.9 | 7 | 595 | 3.2 | 16000 | 5000 | 75 | 8 |
Locations
Gallery
References