Fallout Interactive Experience
Play Sound
The .44 pistol is a weapon appearing in Fallout 4.
Characteristics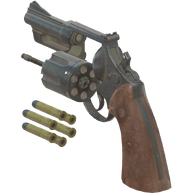 The .44 pistol is a double-action revolver, chambered in the .44 Magnum cartridge, with a blued finish and wooden grips. It doesn't have as many customization options as most pistol frames, but these firearms boast considerable ballistic damage. The cylinder is loaded with rounds held together by a moon clip.
These pistols are relatively common, and they can be found or purchased throughout the Commonwealth. Aiming down sights is ill-advised for close encounters due to the strong recoil, and with the proper mods it can be made quite accurate for firing from the hip.
The Fallout 4 add-on Nuka-World adds an additional barrel type to this weapon's available modifications.
Weapon modifications
Receiver
Barrel
Grips
Sights
Variants
Locations
Notes
Despite the standard barrel being considered the "standard" barrel for the weapon, the .44 pistol is more frequently found with the snubnose barrel. This anomaly is shared with the Deliverer and 10mm pistol.
The weapon is used by the Mysterious Stranger in Fallout 4.
The gun's hammer is missing a firing pin. This also applies to the Western revolver.
Although this weapon uses the same reloading animation as the pipe revolver in first person view, it appears visually different in third person.
There is a cut alternative way of firing the .44 that involves the player "fanning the hammer," which drastically increases its fire rate. However, only first person animations were present for this.
Sounds
Gallery
Pistols
.44 pistol (Eddie's Peace, The Gainer, Kellogg's pistol)

 ·

10mm pistol (Deliverer, Wastelander's Friend, Gen-4 10mm pistol , Classic 10mm pistol , Ultimatum )

 ·

Acid Soaker

 ·

Flare gun

 ·

Western revolver
Shotguns
Combat shotgun (Le Fusil Terribles, Justice)

 ·

Double-barrel shotgun

 ·

Handmade shotgun (Triple-barrel handmade shotgun)
SMGs
Submachine gun (Silver submachine gun, Spray n' Pray)
Rifles
Anti-materiel rifle

 ·

Assault rifle

 ·

Combat rifle (CR-74L , December's Child , Overseer's Guardian)

 ·

Handmade rifle (Splattercannon, The Problem Solver)

 ·

Hunting rifle (Reba II, Tinker Tom Special)

 ·

Lever-action rifle (Old Reliable, Lucky Eddy)

 ·

Manwell carbine (Manwell rifle)

 ·

Radium rifle (Kiloton radium rifle, Radical Conversion)

 ·

Railway rifle (Prototype railway rifle)

 ·

Syringer
Heavy weapons
(Broadsider)

 ·

Fat Man (Big Boy, Nuka-nuke launcher , The Striker )

 ·

Harpoon gun (Admiral's Friend, Skipper's Last Stand)

 ·

(Junk Jet)

 ·

Minigun (Ashmaker)

 ·

Missile launcher (Death From Above, Partystarter)
Other
Paddle ball

 ·

Pipe bolt-action

 ·

Pipe gun

 ·

Pipe revolver

 ·

Thirst Zapper
Cryo
(Cryolator)
Laser
(Salvaged Assaultron head )

 ·

Institute laser (Virgil's rifle)

 ·

Laser musket

 ·

Laser gun (Good Intentions, Old Faithful, Protectron's Gaze , Prototype UP77 "Limitless Potential", Righteous Authority, Survivor's Special, Wazer Wifle)

 ·

Gatling laser (Final Judgment, Aeternus )
Plasma
(BFG 9000 )

 ·

Plasma gun (Experiment 18-A, Sentinel's Plasmacaster)
Other
(Alien blaster pistol (Hub's Alien Blaster ))

 ·

(Alien atomizer )

 ·

(Alien disintegrator )

 ·

(Cosmic cannon )

 ·

Flamer (Sergeant Ash , Heavy incinerator )

 ·

Gamma gun (Lorenzo's Artifact gun, Zeta gun)

 ·

Gauss rifle (The Last Minute)

 ·

(Prototype Gauss rifle )

 ·

Solar cannon (Solar cannon Mk.II, Outcast)

 ·

Tesla rifle

 ·

(Thunderbolt )
Parentheses () denote unique weapon variants.