| | |
| --- | --- |
| | 翻訳が必要 |
"
Adytumのことね。Regulatorsっていう集団がシメてる強制労働収容所よ。ま、連中は「町」って言いふらしてるんだけど。こっちにやって来ては仲間を連れて行って死ぬまで働かせ、またやって来ては更に連れて行って、って状況なの。
"
— Razor
Adytumは2161年現在、Boneyard南部の小さな産業地区です。
Adytum was founded by the inhabitants of the demonstration Vault. The community was fairly self-sufficient, growing its own food and manufacturing ammunition from chemical components garnered on location, (from brahmin dung for example), to exchange for necessary supplies. Aside from the inhabitants eking out an existence, the Adytum is home to several scavengers under the informal leadership of Sammael, who comb the city for long lost artifacts and information.
The town was well-fortified, surrounded by a double chain-link fence and patrolled by armed Regulators. It became dependent on deliveries from the Hub when their hydroponic farms broke down, with the merchants abusing their position as the sole sustenance of the community, making a tidy profit on ammunition from Adytum.
The canonical outcome of the Vault Dweller's adventures in the Boneyard are not specified. The only available piece of information comes from his memoirs: I found many enemies, and a few friends, in the Boneyard. I killed when necessary and learned more about the nature of my true foes. It is not known for certain, however, whether or not the Vault Dweller did uncover the assassination of Zimmerman's son by the Regulators and their attempt at putting the blame on the Blades, nor whether Adytum was freed from Regulator rule.
According to Chris Avellone, the Followers of the Apocalypse helped the Blades in the making of New Adytum after 2161.[1]
Adytumには役割が違う3箇所の地下部分があります。
Taylorの店
編集
Taylorの店はエントランスの近くにあります。商人たちがAdytumの生産物を取引する場です。
Zimmermanの隠し部屋
編集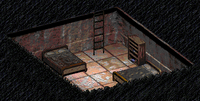 Zimmermanの隠し部屋は彼の部屋の地下にある。
Adytumの水耕農場へのハシゴはMilesの立つ場所の背後にある。中に貴重なものは何もありません。
Notes
編集
If the Vault Dweller liberated Adytum from Regulators, Razor will come, offer thanks and stay in Adytum.
Should one try to give weapons (requires successful Reverse-pickpocket-ing, or exploitation of Combat mode) to the citizens of Adytum during the fight against the Regulators, their sprites for various weaponry have to be considered.
AdytumはFalloutでのみ登場し、Fallout: New Vegasで言及されています。
Behind the scenes
編集
The Builders of the Adytum (B.O.T.A.), a Qabalah religious organization, is based out of real-world Los Angeles. Particularly, one of their beliefs is the use of Tarot.
The Latin word 'adytum' means 'sanctuary' or 'shrine'.
↑ Fallout Bible 5: Question 15
External links
編集
ロケーション
Vault 13

 ·

Shady Sands (Entrance, Brahmin Pen, Garden)

 ·

Vault 15

 ·

Raiders

 ·

Junktown (Entrance, Crash House, Gizmo's Casino)

 ·

The Hub (Deathclaw's lair, Downtown, Old Town, Heights, Water Tower, Hub entrance)

 ·

Boneyard (Adytum

 ·

Downtown

 ·

Fortress

 ·

Library

 ·

Warehouse)

 ·

Necropolis (Vault 12, Hall of the Dead, Watershed)

 ·

Lost Hills

 ·

Mariposa Military Base

 ·

The Glow

 ·

The Cathedral (Los Angeles Vault)
未登場
Scrapheap (体験版)

 ·

Burrows

cut

 ·

Jackals

cut

 ·

The Shrine

cut

 ·

Utopia

cut